ONE OF US.
CHALLENGERS.
ACCEPTED.
Our People
Our people are all different, but they're all challengers in their own right and they have their own story to tell.
Tawana Robertson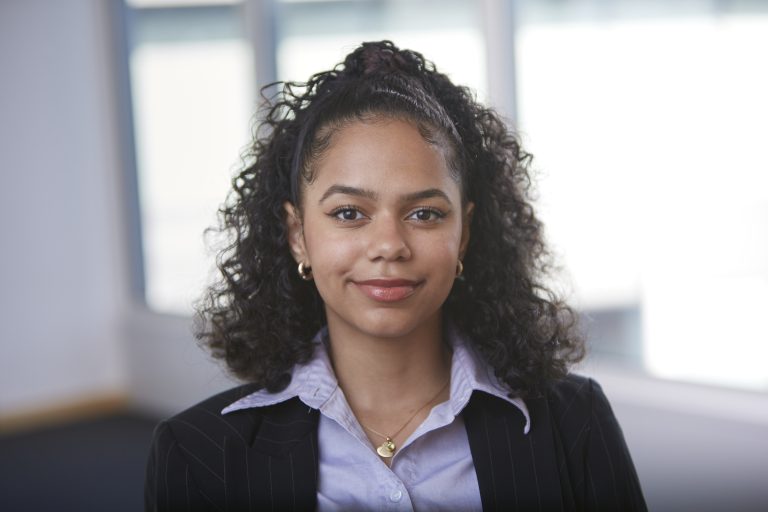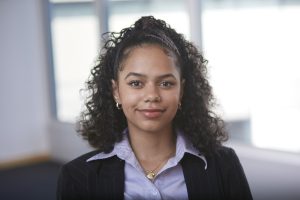 Tawana joined Dentons as a Solicitor Apprentice in September 2022.
Why did you decide to join Dentons?
I think that the people at the firm were a strong factor in my decision to choose Dentons. I thoroughly enjoyed talking to my interviewers who were qualified solicitors. They were helpful in guiding me through the application process and at the end I talked to them about their careers. It was so nice to see that the people at the firm were strongly passionate about the fields they worked in. I felt that I would feel the same way if I became a solicitor apprentice at Dentons.
Before my Assessment Centre, I went to the insight day for the final applicants. At this event, I was able to meet six other final candidates. It was a great opportunity for me to meet my potential cohort and form a bond with them. I got along with the people I met at the insight day, and I could see myself working with them long-term. This influenced my decision to join Dentons because the apprenticeship programme is six years long and I wanted to be sure that I was going to commit to working in a great environment.
What drew you to a Solicitor Apprenticeship?
I was drawn to the solicitor apprenticeship programme because it is organised in such a way that the tools to become an amazing solicitor are combined into one big package. I will complete my Bachelor of Law degree in four years and, whilst doing so, I will be putting together a portfolio of the work I complete at Dentons. After that, I will finish the last two years of the programme as a trainee solicitor preparing to take the Solicitor's Qualifying Exam. I love the fact that that the programme provides a clear path to commercial law.
I was also drawn to the programme because of the financial benefits, compared to the traditional route. I will not incur any student debt and I am getting paid for the work I do at Dentons. This is important to me because I do not come from a wealthy family and was previously stressed and anxious about going into debt to fund University before I even secured a training contract. The fact the training contract is included this apprenticeship scheme added to its appeal, for me. Overall, the programme has relieved huge financial burdens in my life, allowing me to focus solely on my work and education.
What has been a Dentons highlight so far?
My Dentons highlight so far has been my first ever business trip! Just a month into my seat, the Office of General Counsel (Dentons' in-house legal team), I was invited to fly out to Glasgow for a business trip. This also happened to be my first time on a plane since I was two years old. I went to Dentons' Glasgow office and met almost everyone in my team.
It was great to finally see my Scottish colleagues in-person and to work in a new environment. I got to see the beautiful George square on my way to the office too. After work, my team and I attended a Charity Ball which was hosted in a gorgeous historic building called Citation. At the ball I was able to meet other Dentons' employees in different departments.
It was a great opportunity to build my networking skills and experience working in a new location. I absolutely loved it.
What challenges have you had to overcome in your career journey so far?
My biggest challenge has been getting used to the jump between being at school to then working in a corporate environment. It is quite intimidating being a young person in a big organisation, such as Dentons, especially when it comes to communicating with seniors or just trying to network with new faces. I am not really a shy person, but I do get nervous speaking to new people.
Thankfully Dentons has a multitude of training modules that cover almost any work-related topic, including confidence, which I can assign to myself when I have time. My plan to overcome this challenge is to attend the training modules and put what I have learnt into action, by attending a formal networking event where I can challenge my fear.
What's your advice for someone applying to Dentons?
My advice for someone applying to Dentons is to start learning about commercial awareness. Solicitor apprentices are not expected to have a thorough understanding of the English Legal system, but they do really appreciate when you can understand how businesses operate. This is essential in commercial law because a lot of the clients Dentons work with are individuals and organisations that seek legal services to protect or expand their businesses.
I think the first step in becoming commercially aware is to stay up to date with current affairs by reading or watching the news. You can apply real-time events to different sectors of the law. For example, the proposal to replace the General Data Protection Regulation in Britain with its own system could increase the need for more data protection lawyers. This is because organisations that hold personal data would need legal services to ensure they are regulating new data protection laws.
Another piece of advice I would give for someone applying is to thoroughly research the firm and gain an understanding of what makes it unique. The easiest way to do this is to look at the firm's website and use resources such as Legal Cheek, the Legal 500 and Chambers to find out how the firm works, what it does, and what life working at the firm is life.
Whilst discovering more about Dentons, continue to question why you would want to work at firm. This could be because of their dominance in a particular sector your interested in. For example, you could be attracted to banking in the future because you spend time following current economic affairs. At Dentons in particular, our banking department is large – it is split into four different groups which have two to three subgroups within them each.